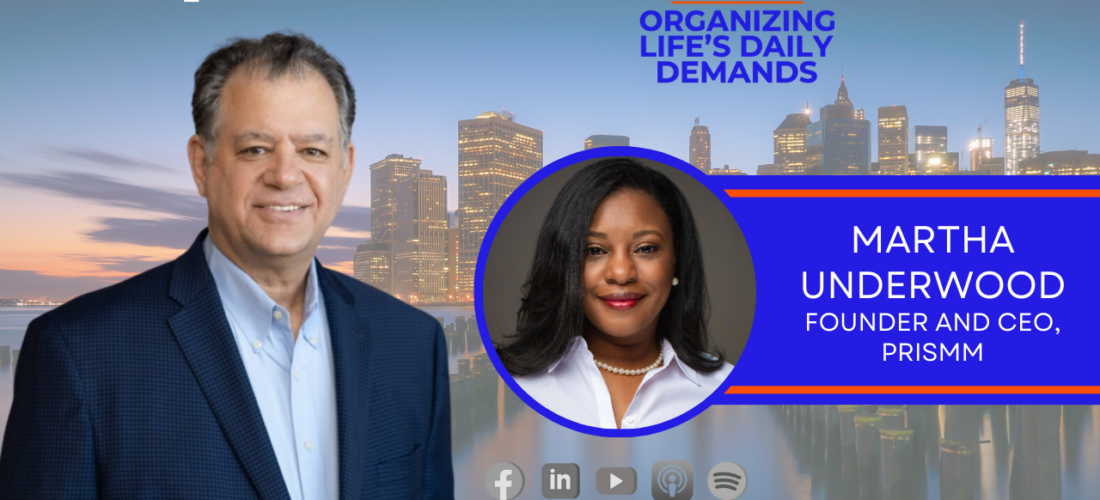 Posted by Jennifer Kennedy
On November 4, 2023
0
In this episode of "Organizing Life's Daily Demands," Peter Gordon interviews Martha Underwood, Founder and CEO of Prismm. Martha created Prismm, a cutting-edge digital vault platform designed to streamline access to vital end-of-life information. With Prismm, Martha and her team are revolutionizing the wealth transfer process, providing an invaluable resource for Financial Advisors, Estate Planning Attorneys, and Banks to serve their clients better. Connect with Martha Underwood * LinkedIn  * LinkedIn Company Page  * Website  * Facebook  * Instagram
The purpose of this podcast is to introduce you to other industries that help people organize their lives. Peter is really happy to have the pleasure of interviewing Martha Underwood of Prismm.
 Martha's journey is an incredible story. She is a Gen Xer who grew up in Miami, Florida. Her mom and dad are boomers.  Creating Prismm was an accident that happened with her dad during Hurricane Irma in 2017. Hurricane Irma came through the south of Florida and it damaged a neighbor's house. Her dad went to help them cut a tree that had fallen on their roof.
He went on the roof with his chainsaw, lost his footing, and fell off the roof. He was unconscious. Martha's mother was there and she was frantic. Her dad was in and out of consciousness in the hospital and wasn't really lucid. The doctors did not know what type of damage had occurred.
The doctors were asking her mom a lot of questions that she was unable to answer. The doctors were being cautious. They had to be sure that her mom had consent to be able to speak on her father's behalf. Her mom knew that he did not take blood and he had some issues with anesthesia, but that was the extent of it. Thankfully, it was only cracked ribs.
Yet, that sparked a lot of questions about her dad's will and life insurance policy. Did they have assets in other places? If so, where? How will Martha handle her parents' affairs? She knows that her mom will be unable to help if something were to occur again.
With over 25 years of experience in technology and in the tech side of banking, Martha created Prismm as a solution to the problem.
Prismm is a system where you can aggregate all of your and your family's assets to accurately track all of the funds. You can catalog all of the property and the heirlooms owed as well. Most importantly documents could be shared with family members when needed. It provides a family with the peace of mind to know that they would still be able to handle the affairs of their loved ones.
Prismm is a great service that is affordable and convenient for everyone. The heartache that it will solve when the time comes is, priceless. You are able to see all of the accounts listed in one area. It easily saves time and money which makes the transfer to the beneficiaries much simpler. People are private and find it difficult to trust technology and sometimes family. Martha built a privacy mechanism within Prismm so that you can control who sees what and when.
Financial Advisors, Estate Attorneys, and Money Managers will enjoy the recently launched enterprise-level platform. This platform also allows you to invite your clients to the platform.  You also have a dashboard where you can see all of the clients on Prismm. Financial advisors love it because you are able to use it as an onboarding tool to capture the information upfront before they start diving into the investments. It's also a great bridge to bring on the next generation of clients for that financial advisor.
Like Peter, Martha has a platform where she can help service people. If you have questions about a power of attorney a health care proxy and a living will, they both offer a vast array of information that can greatly ease concerns you may have. This is the work that Peter and Martha do for clients. You work hard to build wealth and to be able to transfer it to your heirs and family members. We realize how complex that is. Knowing where all this information is can help immensely ensure that all your hard work isn't for nothing.
Thank you for your time and for watching,
Peter