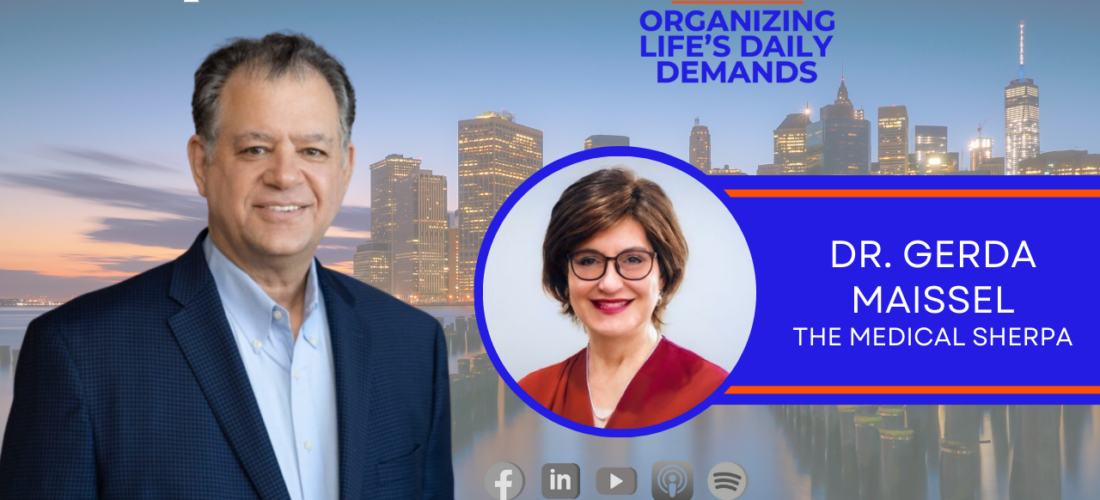 Posted by Jennifer Kennedy
On October 11, 2023
0
In the fast-paced world we live in, managing life's daily demands can often feel overwhelming. From financial responsibilities to the complexities of healthcare, individuals and families can find themselves navigating a maze of challenges. In this episode of "Organizing Life's Daily Demands," Peter Gordon, the President of New York Financial Organizers, sits down with Dr. Gerda Maissel, known as "Dr. Gerda, the Medical Sherpa," to explore how she helps people tackle the intricacies of healthcare and offers guidance on how to effectively communicate with medical professionals.
Dr. Gerda the Medical Sherpa. Dr. Maissel is a Board Certified Patient Advocate (BPCA), Board Certified Physical Medicine and Rehabilitation (PM&R) physician, and a Certified Physician Executive (CPE). My MD Advisor was founded by Dr. Maissel because of her passion for helping people with complex and chronic conditions. She wants to ensure that people receive the best care possible, regardless of age or disability. Dr. Maissel supports clients as if they were family. Connect with Dr. Maissel * Website * Email * FaceBook * LinkedIn 
Dr. Gerda's Unique Role
Dr. Gerda is a professional patient advocate, specializing in helping individuals facing complex medical problems navigate the complex healthcare system. Her role is like that of a medical translator, bridging the gap between patients and doctors by ensuring that the right questions are asked and that medical information is effectively communicated.
Peter acknowledges the importance of effective communication in healthcare. His own experience with a geriatric care manager helped his parents navigate the challenges of aging. This encounter left a lasting impact on him, highlighting the significance of professionals like Dr. Gerda in the healthcare field.
A Multifaceted Background
Dr. Gerda's journey to becoming a medical advocate is rooted in her diverse background. She is a physical medicine and rehabilitation physician with extensive experience in clinical practice and healthcare administration, including roles such as Chief Medical Officer and Chief Transformation Officer. During the COVID-19 pandemic, she realized the need to get back to her roots of directly helping people and decided to channel her skills toward alleviating the suffering of individuals and families dealing with complex medical issues.
The Role of a Medical Sherpa
Dr. Gerda elaborates on the various aspects of her work, emphasizing that her assistance is tailored to each client's specific needs. She often serves as a translator, helping clients understand medical information and teaching them how to ask questions that doctors can easily understand. Miscommunication in medical discussions is a common issue, and Dr. Gerda provides an example of a patient who misunderstood a doctor's question, leading to a breakdown in communication. Her intervention helped clarify the situation and reestablish communication between the patient and the doctor.
Dr. Gerda is physically present during medical appointments. She explains that while some consultations are conducted via video calls, she can effectively participate in discussions over the phone, ensuring that the patient's interests are represented.
Crucial Subtext in Medical Conversations
Dr. Gerda details how a seemingly simple question about a patient's code status can carry significant subtext. She explains that when a doctor asks about a patient's code status, they may be expressing concerns about the patient's critical condition and their readiness for resuscitation if necessary. Understanding these nuances is crucial for effective communication with medical professionals.
Making a Difference
Dr. Gerda's interventions have made a significant impact on patients' lives. In one instance, she identified medication-related issues that were contributing to a patient's delirium, leading to a much-needed improvement in her condition. Another example highlights her role in helping a distressed husband bring his wife home from a nursing home, ultimately improving the quality of her life in her final months.
Peter emphasizes the importance of having an advocate, whether a family member or a professional, during medical appointments. He praises Dr. Gerda for her ability to navigate complex medical situations effectively.
Who Should Seek Dr. Gerda's Assistance?
Who should consider seeking Dr. Gerda's assistance? She emphasizes that anyone feeling overwhelmed and in need of professional help to navigate the complexities of healthcare should reach out. Dr. Gerda provides a valuable service that reduces suffering and offers clarity in difficult medical situations.
In the world of senior care, where Peter Gordon also operates, having access to experts like Dr. Gerda can be a game-changer. Peter highlights the common desire among professionals in their respective fields to make a difference in people's lives, and Dr. Gerda's work undoubtedly aligns with this noble mission.
As this episode of "Organizing Life's Daily Demands" comes to a close, listeners are left with a profound understanding of the crucial role Dr. Gerda Maissel plays in empowering individuals and families to navigate the complexities of healthcare. Her expertise serves as a beacon of hope for those facing challenging medical situations, offering guidance, clarity, and compassion in their journey toward better health and well-being.