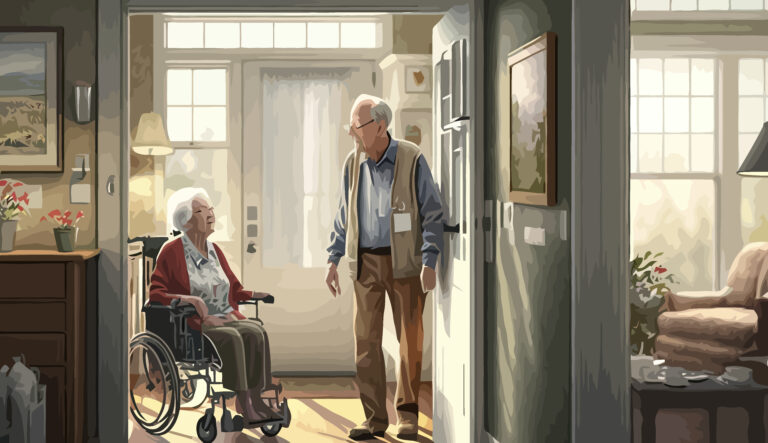 Posted by Peter Gordon
On May 8, 2023
0
Welcome to "Organizing Life's Daily Demand." Peter Gordan, the president of New York Financial Organizers, is a daily money manager and helps people pay their bills, deal with all the non-investment side of financing, and generally deal with life's daily demands.
 The purpose of this podcast is to interview other people who can help individuals with different specialties than what I have. One of the guests featured on "Organizing Life's Daily Demands" is Daniel Elliott from Jukebox Health, a clinically led home modification company that empowers seniors to age in place by identifying and modifying home hazards.
Jukebox Health
Jukebox Health's primary mission is to provide a clinically led home modification service to seniors that enables them to age comfortably and safely in their own homes. According to Elliott, many older adults want to stay in their homes, but they lack the knowledge and resources necessary to create a safe environment. Jukebox Health's clinicians are trained to evaluate the physical environment of their clients and identify potential hazards, ultimately providing solutions that enable them to age in place. 
By identifying potential hazards and offering solutions, Jukebox Health is focused on tackling the various challenges associated with home modifications to provide seniors with a better quality of life. The company has served thousands of families, and Elliott is enthusiastic about the impact they are making in the lives of seniors. With the aging population, home modification services such as those provided by Jukebox Health will be essential to enable seniors to maintain their independence and age comfortably and safely in their own homes.
According to Elliott, the name "Jukebox Health" was inspired by the nostalgia and community engagement that jukeboxes represent. The idea is that jukeboxes are associated with being out and about in one's community, and that is precisely what Jukebox Health hopes to help its clients achieve. In addition to evoking feelings of nostalgia and community, the name also symbolizes the company's core tenet of empowering clients to choose the changes they want to make to their homes. Just as a jukebox offers many different music options, Jukebox Health offers a wide range of home modification options that clients can choose based on their personal preferences and lifestyle.
Daniel Elliot and Home Modifications
Daniel Elliott first got involved in geriatric care because his father needed it. Elliott and his family met a care manager who, although not an expert in home modifications, emphasized the importance of creating a safe environment. When asked about his background, Daniel Elliot shared that he is an occupational therapist who has a particular interest in home modifications. He began his career in private home care and found that working with patients in their homes was particularly effective because it allowed him to address their needs in a contextual environment. As an occupational therapist, Daniel focuses on helping patients develop basic skills such as dressing, feeding, bathing, and toileting, all of which are essential for independent living. He also works on instrumental activities of daily living, which are the activities that people want to do. Daniel notes that occupational therapy and physical therapy complement each other well because patients need to have the physical abilities required for daily living, such as endurance, walking, and balance.
Daniel acknowledges that while working with patients on intrinsic factors is important, addressing the environment is equally critical for long-lasting change. He found that making home modifications could help patients maintain the progress they had made during therapy. As a result, he became a certified living-in-place professional and decided to combine his passion for technology with his expertise in home modifications to help other clinicians do the same. Daniel now leads clinical partnerships at Jukebox Health and works with various home services providers to promote home modifications and home safety assessments, which are not currently covered by insurance. He believes that addressing this gap in coverage is crucial for patients' long-term health and independence
Why have home modifications been so difficult to implement at scale?
Health systems like Mount Sinai or Northwell Health are huge health systems that see so many patients, and they have their core services. The US housing system is another complicated sector, so combining these is a really, really tough challenge. 
Practical Modifications and the Future 
Caregivers often experience burnout and depression while taking care of aging parents or loved ones with Alzheimer's or dementia. To address this issue, Daniel suggests installing cost-effective equipment like motion-sensor lighting, grab bars, raised toilet seats, and bidets to prevent injuries and reduce caregiver burden. He also emphasizes the importance of integrating home modifications into the plan of care, which is a big initiative that his team is focusing on, as it can provide patients and clients with the opportunity to learn what they can do in their homes. Finally, he mentions several interesting and unique programs that his team is doing with different partners, such as funding patients' home assessments in Massachusetts.
Jukebox Health has proven to these health systems that it's worth doing this, and they've had great outcomes with them, so they keep educating everybody. 
Connect with Daniel:
Website – jukeboxhealth.com
LinkedIn – www.linkedin.com/in/daniel-elliot