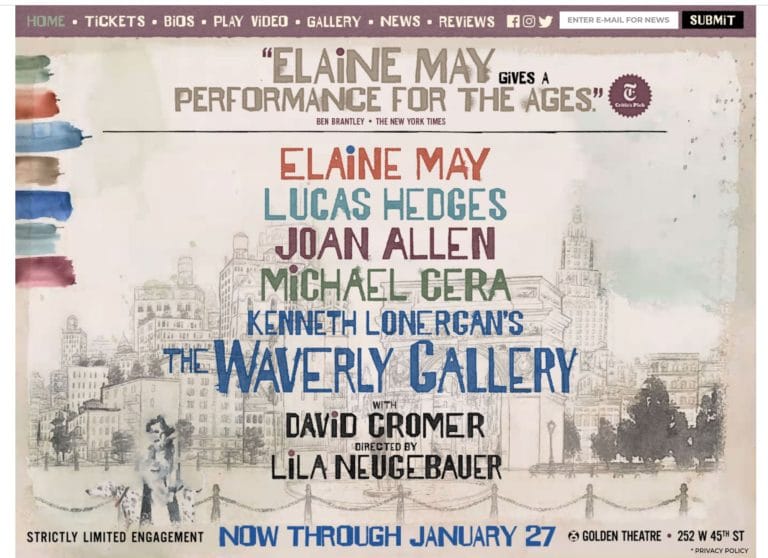 Posted by Peter Gordon
On January 14, 2019
0
A few weeks ago I went to see The Waverly Gallery, a play by Kenneth Lonergan, at the Golden Theater on, Broadway. It was a wonderful show with crisp acting, excellent character development and a theme that resonated very much with my life.
In the show Elaine May expertly portrays Gladys Green, a woman in her 80s struggling with memory loss and failing Executive Functioning. Gladys was a busy attorney with a full social life. However, as the play begins, she is now limited to presiding over a small art gallery with little to no customers.
Her family is caught in the difficult process of dealing with her emerging Alzheimer's Disease and coming to terms with her failing cognitive abilities. We see the difficulty that they have in dealing with such issues as forgetfulness, hearing, medical care, safe home life and their own impatience.
I have first hand experience in dealing with these matters in both my personal and professional lives. Over the last two years my brother sister and I have faced the same issues as the family in the Waverley Gallery. My mom, a retired New York City school teach had a vibrant life, full of friends and social activity. In her early 80s she had a hip replacement that severely limited her mobility, leading to being bed ridden. She was diagnosed with dementia around that time and it has consistently progressed.
Our family has learned to talk slowly but not loudly. I try to communicate a sentence at a time and am very patient with the responses. While conversations are not as dynamic as they once were I'm often surprised by some of our discussions. Back in May my mom asked who I thought was going to win the big race.
"What race?", I asked.
"You know, the horse race."
"I don't follow the horses and I didn't know you did. How do you know about the Kentucky Derby?" I said.
"I read the New York Times every day!" which she certainly does.
As a result of my experience with my mom, as well as my father, I decided to pursue a career as a Daily Money Manager and created New York Financial Organizers. We bring order, ease and peace-of-mind to our clients by managing the day-to-day financial tasks that can overwhelm the people we help. ​

I work with many people like Gladys Green and her family members. In the show, which takes place sometime in the early 90s, the family is perplexed by the developments in Gladys' life. Today we have a host of professionals that can help people deal with dementia and Alzheimer's and mitigate the toll it takes on the individual and their families. The key is to reach out for help. Do not hesitate to contact us if you'd like to find out more about our services. And go see The Waverly Gallery.