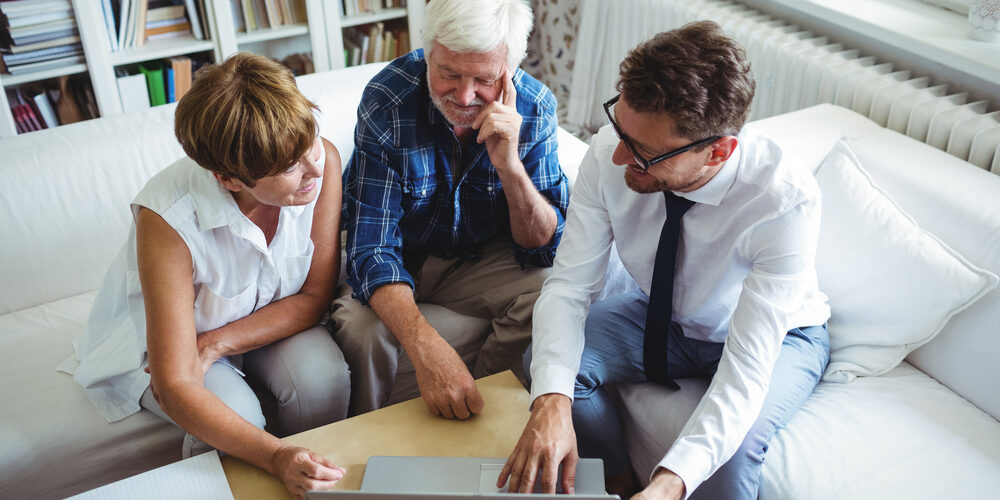 Posted by Peter Gordon
On May 22, 2023
0
Welcome to Organizing Life's Daily Demands, where we delve into the world of daily money management. Today, we have the privilege of introducing Peter Gordon, the president of New York Financial Organizers, and his son, Jacob Gordon. Together, they form a remarkable team of daily money managers, assisting people in paying bills, managing non-investment financial matters, and tackling life's daily demands. As daily money managers, they specialize in helping seniors, high-net-worth individuals, and those with disabilities handle their personal finances on a day-to-day basis. It's important to note that their focus is not on wealth management or investment strategies. Instead, they excel in creating budgets, safeguarding against fraud and elder abuse, and ensuring bills are paid promptly. In some cases, the Gordons work with individuals who have no immediate family support. They take on crucial fiduciary roles such as power of attorney, executor of an estate, or trustee. This responsibility is especially significant when someone needs an estate plan but lacks friends or family members who can fulfill these roles. The Gordons' expertise becomes invaluable in helping these individuals make informed decisions and act in their best interest when they are no longer capable of doing so themselves.
How did Jacob Gordon became an integral part of the company?  Around 14 years ago, Peter's father fell ill, presenting a significant challenge for their family. Navigating the complex realm of senior care seemed daunting until they discovered the invaluable assistance of a geriatric care manager. This professional specialized in guiding families through the complexities of medical care for seniors, providing a clear roadmap and relieving them of immense stress. It was through this experience that Peter recognized the need for daily money managers to handle the financial side, ensuring bills were paid and finances were managed efficiently. This realization marked the beginning of Peter and Jacob's collaboration with numerous care managers, working closely together in their respective capacities.
In 2015, Peter seized the opportunity to establish his own business as a daily money manager. Jacob, being his son, naturally lent a helping hand during the early stages. However, little did they know that Jacob's involvement would soon evolve into a significant role within the company. As the oldest among his cousins, he quickly learned the value of patience and understanding when interacting with elderly individuals. Whether spending time with his grandparents facing mobility challenges or communicating with his nearly deaf grandparent, Jacob developed crucial skills that would shape his future path.
After college, Jacob felt a strong inclination toward pursuing a master's degree in social work. Returning to New York, he worked part-time while searching for suitable programs. Fate intervened when he landed a position as an administrative assistant for a pooled income trust. Little did he know that this role would lay the foundation for his involvement in his father's work. In 2017, Jacob began temporarily assisting his father while exploring other opportunities. Initially considering it a stepping stone, he soon realized his aptitude for the role. His natural ability to work with elderly individuals, exhibiting patience and assisting them in their financial matters, became evident. Six months into his involvement, Jacob found his calling and committed to the role, knowing that his youthful presence could serve clients for a longer duration.
One client case that stood out was Diane's. Introduced to the Gordons through a geriatric care manager, Diane needed assistance in managing her husband's care. The Gordons were tasked with overseeing Diane's financial matters, providing estimates and balances to her attorneys for her Community Medicaid application. Throughout their collaboration with Diane, they faced challenges, such as uncovering attempted fraud with a forged check. They rectified the situation, ensuring all income sources were accounted for and coordinating with institutions to update Diane's account information. Tragically, Diane's husband passed away shortly after being approved for Community Medicaid, leaving her to navigate her financial future alone. The Gordons guided her through recalibrating her budget, applying for survivor benefits, and addressing high maintenance costs. They provided the necessary support and reassurance during this challenging period. Ultimately, Diane decided to relocate to California to be closer to her son. The Gordons assisted in selling her apartment, canceling bills, and ensuring a smooth transition to her new home. Their meticulous attention to detail and comprehensive services relieved Diane of the burdensome administrative tasks typically associated with such life changes. In the summer of 2021, Jacob traveled to California to finalize Diane's estate plan, solidifying his role as her agent. This milestone offered Diane and her family peace of mind, knowing that her affairs were in capable hands.
At New York Financial Organizers, their work is divided into two main areas. First, they assist clients in managing their personal finances, paying bills, and handling financial responsibilities. This makes up approximately 50% of their work. The remaining 50% revolves around their role as social workers. Many of the elderly individuals they work with not only require financial guidance but also seek companionship. The Gordons understand their clients' feelings of loneliness or confusion and offer support, becoming their friends.
Transparency is a cornerstone of their services. They believe in keeping clients informed about their financial status and the actions taken on their behalf. Regular reports detailing progress and the current state of their finances provide clients with a clear understanding of their situation, facilitating future planning. Their services extend beyond the elderly, catering to busy professionals who may lack the time or expertise to handle their financial matters effectively. One valuable service they provide is helping individuals determine how long their money will last, especially for those who wish to remain in their current living arrangements. They work closely with clients, their attorneys, and families to ensure everyone is aware of the financial implications, enabling informed decisions.
The Gordons' collaboration as a father-son team has been seamless, free of conflicts. Jacob considers himself fortunate to work alongside his father, a testament to their strong bond personally and professionally. Looking back, Peter's passion for this work began in his childhood. Growing up with his father's office equipped with computers, he developed a desire to work with his dad. Twenty years later, that dream has become a reality, with each of them having their own office in their respective apartments. Technological advancements have transformed the way they operate, enabling them to provide exceptional services to clients even thousands of miles away.
At New York Financial Organizers, their dedication lies in helping individuals and families navigate the complexities of daily financial management. Whether it's an elderly individual seeking assistance or a busy professional looking to streamline financial responsibilities, they provide expert guidance and support every step of the way.