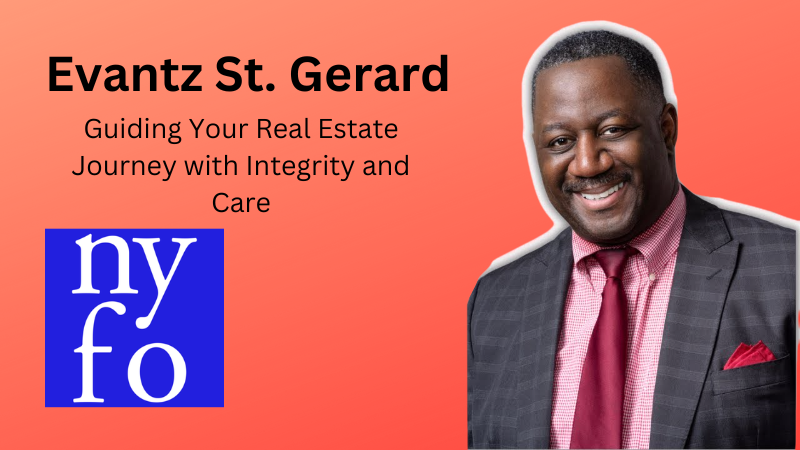 Posted by Jacob Gordon
On August 7, 2023
0
In the bustling world of real estate, where dreams of owning a home or making profitable investments come to life, one individual stands out for his genuine care and dedication to his clients. Meet Evantz St. Gerard, a realtor with a passion for helping people achieve their housing goals and creating lasting relationships beyond the transaction.
Evantz's journey into the real estate business was not a planned endeavor; it was a fortunate twist of fate that led him to discover his true calling. Initially, he worked at The Wall Street Journal, spending over a decade in the mailroom. However, a chance encounter with a gentleman named Dean Graber, who was buying sports event tickets, changed the course of Evantz's life. An unexpected friendship blossomed, leading Evantz to explore the mortgage industry and eventually become a loan officer and account executive.
Life took another turn when the downsizing of his department at The Wall Street Journal pushed Evantz to reassess his future. Faced with uncertainty, he decided to delve into real estate, an area that had always intrigued him. After obtaining his real estate license, he immersed himself fully into the field, discovering a passion for helping people find their dream homes and guiding them through the intricate process of buying or selling properties.
Evantz's approach to real estate sets him apart from others in the industry. He is known for genuinely caring about his clients' needs, going beyond mere transactions to build lasting connections. His dedication to helping clients goes hand in hand with his commitment to continuous learning. He invests significantly in his own education to stay updated with the latest trends and information, ensuring that he can offer the best advice and guidance to his clients.
One aspect that stands out about Evantz is his unwavering honesty. He believes in providing clients with transparent information, even if it means advising against a real estate decision at a particular moment. For Evantz, it is crucial to understand his clients' motivations, which is why he begins each relationship by asking about their "why." By grasping their desires and goals, he can tailor his services to their specific needs, avoiding the aimless chaos that sometimes accompanies the search for a new home.
Evantz's sincerity and exceptional customer service have garnered him immense respect and admiration among his clientele. He takes the time to not only assist them in finding the perfect property but also follow up after the deal is done. This level of care and attention is a rarity in the industry, and it leaves a lasting impression on his clients, leading to referrals and invitations to family events, where Evantz is welcomed with open arms.
As a realtor, Evantz thrives in the vibrant New York market, where he encounters a diverse array of clients, including many first-time homebuyers and immigrants seeking a place to call their own. His ability to empathize with their unique situations and aspirations makes him a sought-after professional in the field.
Beyond the professional realm, Evantz embraces his passion for community engagement. He and his team have made it a tradition to give back by hosting annual Thanksgiving pie giveaways and barbecues for their clients. These events not only celebrate their clients' successes but also strengthen the bonds formed during the real estate journey.
Inquiring about the current status of the market, Evantz believes that timing is crucial. He encourages sellers to consider the present moment as an opportune time to sell their homes, as there is still a high demand from buyers. On the other hand, he assures potential buyers that they can find suitable properties by seeking the guidance of experienced professionals and being patient throughout the process.
In a world where the pursuit of a perfect home or a profitable investment can become overwhelming, Evantz St. Gerard stands out as a guiding light, offering a helping hand and genuine care to his clients, transforming their real estate dreams into realities. His commitment to ongoing education and ethical practices sets a commendable example for all in the industry, making him a beacon of trust and reliability for those seeking expert guidance in the complex world of real estate.
Connect with Evantz St. Gerard:
Phone: (917) 975 – 5985
Website: ovou.me/evantzsaintgerard
LinkedIn: linkedin.com/in/evantzsaintgerard